We have pick out some of the best Android apps to download on your new phone, including free apps, popular Android apps and some apps you might not know.
AirDroid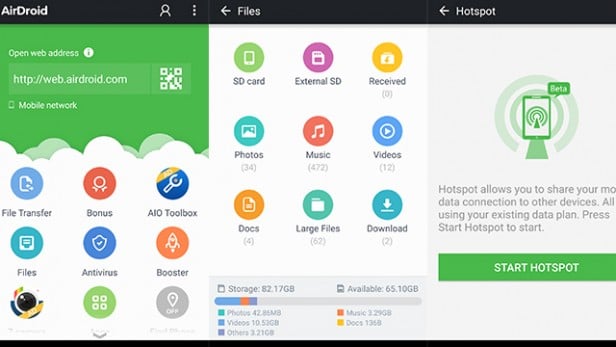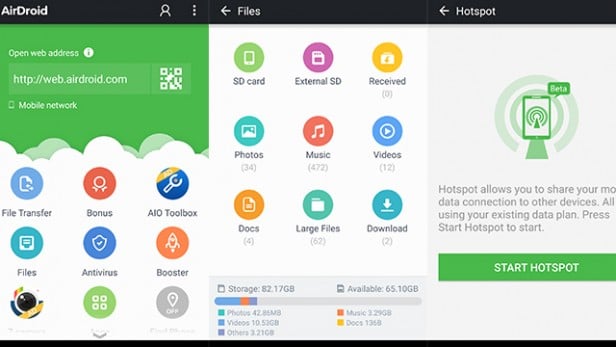 What is AirDroid?
For those Android users feeling left out by Apple's Continuity feature, which allows you to integrate your iPhone with your tablet and Mac, AirDroid has the answer. It's more than just a wireless file transfer and notification tool. AirDroid also allows you to share your phone's screen with your laptop, create a Wi-Fi hotspot, clear out RAM space, and access your phone via a desktop web browser. Basically, the developers have provided you with every type of sharing and maintenance facility you need.
What's good?
As mentioned, AirDroid packs in a load of features beyond the usual sharing tools. Rather than making it feel overloaded, the extra stuff, such as the virus scanner and RAM optimisation, are nice features which don't clutter the home menu and make AirDroid feel like a well-thought out and comprehensive tool.
When it comes to the main features, such as file sharing and notifications, AirDroid is incredibly easy to use, as all good apps should be. You can log in using Facebook, Google, or Twitter, or create an account in seconds by adding your email address and a password. Once I'd signed up on my phone, it was simply a case of downloading the desktop version of the app on my laptop and logging in using the email and password I'd set up through my phone.
As soon as I'd done that, my handset was detected by the desktop AirDroid app and I was sharing files and receiving notifications on my laptop instantly. There was almost no lag between notifications popping up on my phone and them appearing on my desktop and you also have the option to reply to messages and calls through your computer.
There's versions of AirDroid for Windows, Mac and a web extension, so there's no limitations depending on which platform you prefer. And you can add friends who also use AirDroid to quickly transfer files.
What's bad?
The obvious drawback with any wireless sharing platform is that, depending on how speedy your Wi-Fi is, it's not going to be as fast as plugging a cable in and transferring files that way. But that's not a specific criticism of AirDroid and I had no issues with files not transferring or notifications not showing. Still, if I wanted to transfer a lot of larger files, I would still go for the cable method.
Other than that there's a couple of ads included by way of extra icons on the homescreen and you have to upgrade to the premium version to get extra features such as bigger file transfers and the ability to link more than two devices. From what I can tell, upgrading to the premium edition is done by sharing the app with your friends, as I couldn't find any way to pay for the upgrade.
Verdict
AirDroid is a polished and easy to use file transfer app with a range of extra features that are actually useful. The fact that both Windows and Mac are catered for, plus the ability to use the web extension, allowing you to sync your phone with pretty much any computer you use, also makes it incredibly versatile. AirDroid almost feels like it should be an official standard Android feature.
Score: 9/10 | Price: Free | In-app purchases? No | Download AirDroid
Adobe Premiere Clip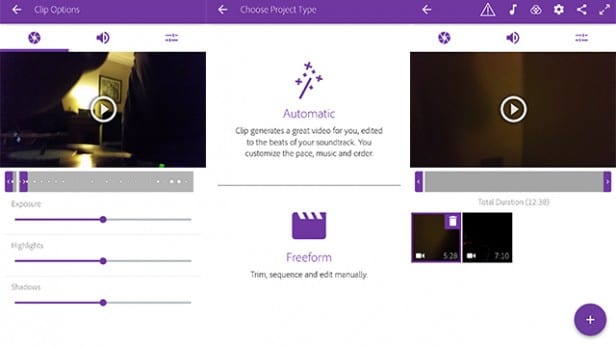 What is Adobe Premiere Clip?
Adobe has provided Android users with an easy to use yet fairly in-depth video editor in the form of Adobe Premiere Clip. The app allows you to create video edits easily and quickly while providing a range of editing options that other video editors for smartphones don't have. What's more, you can open any project you make using Clip in Adobe's full desktop video editor Premiere Pro.
What's good?
Premiere Clip makes good on its promise of easy usability. The layout is simple enough to figure out intuitively, with a Google-like 'plus' icon in the bottom right for making a new edit.
Once you hit the plus you can choose to import video from your device, the Creative Cloud, or shoot new video or photos. After selecting the clips you want to use, Premiere Clip will give you the option to make your own edit or create a random one with the 'Automatic' feature. This option will cut your video together by matching the beats of whichever soundtrack you choose. It works well, and adds a nice feature for those looking to create a quick montage edit without delving into the deeper customisation options.
When it comes to the 'Freeform' option, things are similarly straightforward. You get a simple layout showing your imported clips, which acts as the final edit timeline, with a video display at the top to check your full edit. The interface makes it easy to add effects, play with the exposure, highlights, and shadows of your clips, and add music.
One drawback I found was when adding filters or effects to individual clips, the app would apply it to all the clips in my timeline, which was disappointing. But that was a minor drawback to what is a nice and clean editing interface. The options at the top of the screen make it incredibly easy to tweak the clips and add standard effects such as crossfades and fade-ins.
Once you're finished with the edit, you can share or publish the video in a variety of ways, including exporting to the Creative Cloud, direct to YouTube, or saving the exported video to your device's memory. You can also save the project to be opened in Premiere Pro, which is a nice feature to include, allowing for further and more advanced editing on the desktop programme.
All in all, the experience is startlingly pain-free, and I was able to figure out how to use the various features and start editing in minutes.
What's bad?
Unfortunately, the app will upload your created video timelines to the Adobe Creative Cloud automatically when you're connected to Wi-Fi. There doesn't seem to be any way to turn the feature off, and you don't even have to have shared or published the video in order for the cloud to start syncing your projects.
It also seems that Adobe doesn't want you exporting clips with any higher resolution than 720p. The app will scale down higher-res shots to 720p before publishing your video edits, which for the casual user won't matter too much, but for those looking to make and upload high-quality videos, this could pose a problem.
What's more, I often encountered an issue with importing my own tracks to use as backing music. The app crashed several times and would often just not load the music. This is something that needs to be fixed urgently.
Verdict
Adobe's video editor for handheld devices manages to combine an array of features with a refined and easy to use interface. Despite the syncing and downgrading issues, most will find all they need in Adobe Premiere Clip. A further update to address the music importing issue will make this one of, if not the best video editor for Android devices.
Score: 8/10 | Price: Free | In-app purchases? No | Download Adobe Premiere Clip
Sleep Partner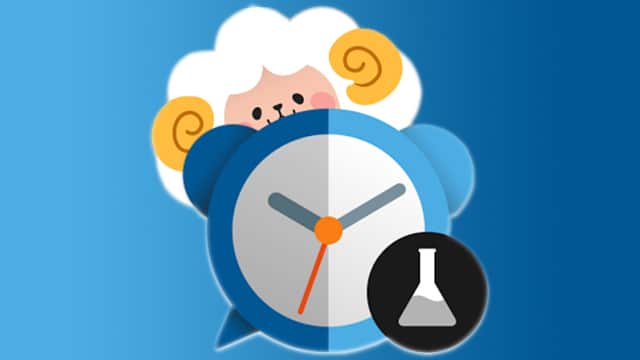 What is Sleep Partner?
Sleep assistance apps seem to be springing up in bewildering abundance recently, while stories about the effects of 'blue light' on sleep cycles become similarly ubiquitous. From apps that wake you up at the right point in a sleep cycle, to those that play white noise to aid your slumber, app developers seem to really care about the many different ways in which you can hit the sack.
Enter Sleep Partner. Currently in beta mode, the sleep management app helps you to get to bed at your target time by using several features including filtering out blue light and reminding you to get to bed in a particularly novel way involving cartoon sheep. It also includes an alarm feature, which uses the sounds of birds chirping to help rouse you in as gentle a way as possible.

What's good?
Sleep Partner is simplicity defined. The app opens with a screen where you set your desired bed and wake-up time. Once you set your target bedtime, the app will filter out 83% of the blue light from your screen three hours before you are due to hit the hay. It basically makes your screen take on a kind of sepia tone, but actually feels quite nice to reduce the glare as the day winds down.
Amazon has just released a new software upgrade which does the same for its Amazon Fire tablet range, and experts have long been warning against the effects of staring at a screen blasting blue light at you before going to sleep. Sleep Partner makes it incredibly easy to ensure you remember to turn your blue light filter on by doing it automatically based on your target bedtime.
It's also quite nice to wake up to an alarm that doesn't use one of the stock alarm tones which come with your phone. The standard options seem to always be based on lively and vaguely ethnic-sounding music, which aren't exactly conducive to a gentle awakening in the mornings. Thankfully, Sleep Partner will stir you with the mellifluous sounds of chirping birds – a nice change from SAMBA_MADNESS_01.
Cartoon sheep will also appear on-screen if you miss your target bedtime, and what's more, they change depending on how good you are at sticking to your targets. Miss a few bedtimes in a row and they will increase in number. It's clever, if a bit annoying.
The app also gives you the ability to tweak the various features, from blue screen filter tone to alarm volume.

What's bad?
As mentioned, if you stay up past your target bedtime, the screen will start filling with sheep to stop you using your phone. This is intended as a reminder to get you to turn off Facebook and go to bed, but it's pretty annoying really. You can fix it really easily though, by just going into the app and turning target bedtime off. It would also be nice to have a white noise feature, as this would mean all aspects of sleep aid would be contained within Sleep Partner.
Verdict
Sleep Partner is as easy to use as it is good for your health. It contains genuinely useful tools for helping you sleep and if it had a white noise option it would have everything you need for a good night's rest. As it is, it's still worth trying to see if you feel better after a week of no blue light in the evenings.
Score: 9/10 | Price: Free | In-app purchases? No | Download Sleep Partner
Ref : Trusted Reviews