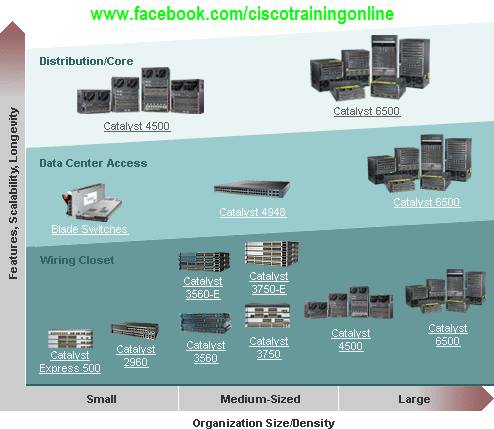 Cisco Switch Functions and Types of Switch Comparisons
Campus LAN Access Switches, Campus LAN Core and Distribution Switches, and Cisco Data Center Switches.
1. Campus LAN Access Switches
Cisco Catalyst access switches can help you build a borderless business by providing ease of operations, sustainability, borderless experience and security with high availability, both stackable and standalone options, and EnergyWise technology for efficient power management.
The featured Campus LAN Access Switches including Cisco Catalyst 4500E Series Switches, 3850 Series, Catalyst 3750-X Series, 3750 Series, 3560 Series, 2960-S Series, 2960-SF Series, 2960-X Series, and Cisco Catalyst 2960 Series Switches.
2. Campus LAN Compact Switches
Unlike simple hubs, Catalyst Compact Switches provide all the capabilities and benefits of the enterprise-class Cisco Catalyst 2960-S and 3560-X Series switches, including enhanced limited lifetime warranty. It owns the key feature of reducing energy costs and features of flexible deployment, outstanding security (Protect devices that are deployed far from the wiring closet from unauthorized user or device access, eavesdropping, or theft.), easy setup and unified network management as well.
The featured Campus LAN Compact Switches including Cisco Catalyst 3560-C Series Switches and Catalyst 2960-C Series Switches.
3. Campus LAN Core and Distribution Switches
These Switches provide the scale, intelligence, simplicity, and security essential to accelerate business initiatives and protect investments with the key features of resiliency (High-availability features help ensure nonstop connectivity and business continuity), consistent experience, application visibility, and simplified operations (Cisco Catalyst Smart Operations brings together a set of technologies and Cisco IOS Software features to simplify network planning, deployment, monitoring, and troubleshooting, lowering IT operating costs and total cost of ownership).
The featured Campus LAN Core and Distribution Switches including Cisco Catalyst 6800 Series Switches, Catalyst 6500 Series Switches, Catalyst 4500E Series, and Cisco Catalyst 4500-X Series Switches.
4. Data Center Switches
These Cisco Nexus and Catalyst families of switches are designed to meet the stringent requirements of the next-generation data center with the features of Simplified (provide end-to-end visibility for any topology, speeding up workload delivery for both physical and virtual rollouts with network automation and provisioning, and making troubleshooting easier with centralized fabric management across physical and virtual workloads.), lowering total cost of ownership by up to 50 percent, unifying all network locations into one environment, and making services available consistently across applications and workloads.
The featured Data Center Switches including Cisco Nexus 9000 Series, Cisco Nexus 7000 Series, Nexus 6000 Series, Nexus 5000 Series, Nexus 3000 Series, and Cisco Nexus 2000 Series Fabric Extenders.