Basic Topics
What entrepreneurship is
How to come up with ideas
Doing market research and finding your customer
Creating value for your customer
Knowing how to capture and sustain value
Selling and pitching
Advanced Topics
Entrepreneurial finance and accounting — no spreadsheets
Team formation
Product development and coding
A program for established companies to further their business
How to get funded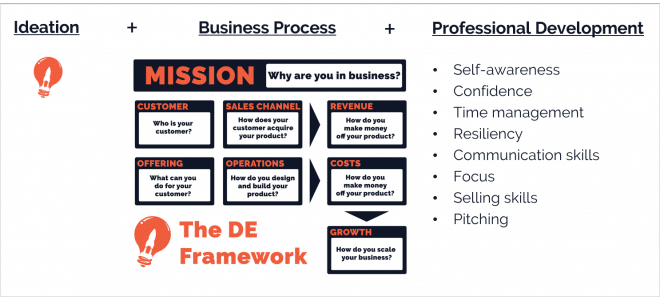 Strategy
Entrepreneurship Foundation and Ideation — first, we'll cover some foundations in entrepreneurship, sharing common hurdles and how to overcome them, plus what a career as an entrepreneur might be. Then, you'll go through the idea generation (ideation) including some creativity exercises and brainstorming, plus how to filter ideas.
Business Process — the foundation for the business process is Disciplined Entrepreneurship, an integrated, comprehensive, and proven process used by MIT faculty and students to crank out successful companies. This is distilled to six themes, where we will focus on the first few sections, going through knowing your customer, determining what you can do for them, and how to reach them and have them acquire your product.
Professional skills — additional skill building in time management, self-awareness, focus, and selling skills are integrated throughout the course to promote effectiveness and maximum efficiency both professionally and personally.
Ref: MIT Launch X