Samia Razaq – Introduction
Samia Razaq likes to call herself a geek. Born on the Pakistan side of Kashmir, she is a child of an armed forces family. As her family moved around the country, she felt most at home behind a computer screen. "I was always this nerdy kid who would sit and code all day," she said.
It was there, perched at a computer, where she would find her calling. Now 26, Samia Razaq is Director of the Innovations for Poverty Alleviation Lab (IPAL), a research center within Pakistan's prestigious Information Technology University. Composed and dressed in a red embroidered kameez, she stands as tall, if not taller than, her male colleagues. But glimpses of her shy younger self come through time and again. She talks fast, excitedly, as if her mouth is trying to keep up with her mind and giggles nervously, almost apologetically, after every couple of sentences.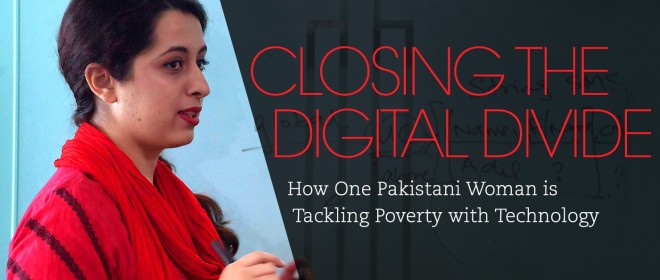 Once she is in front of her students, however, her demeanor changes. Collected and self-assured, she commands the room. This newfound confidence, she says, is a result of the Acumen Regional Fellows Program, a leadership development program that equips emerging social leaders in India, Pakistan and East Africa with the skills, knowledge and moral imagination to drive social change in their communities.
"When the first seminar started, my ability to converse was pathetic," she said. "Not only was I the nerdy kid, I was also the nicest kid. I'd be like 'If you can help me, great, but if you can't, that's OK too.' I had to learn to be more assertive. I wasn't used to talking about myself; I had always let my work speak for itself. But as soon as I started sharing what I was working on, people would get excited and say 'Why aren't you telling people about this?'"
It wasn't only Samia Razaq's humility that held her back. Pakistan has a history of gender discrimination, and women struggle for respect, rights and equal status. The technology industry, especially, has a shortage of females. Most women, like Samia Razaq's sisters, end up in medicine or engineering. Samia Razaq, however, decided to explore computer science, although she wasn't quick to recognize her talents. Thankfully her teachers did. They kept pushing her to pursue a career in technology so, in ninth grade when Pakistan requires students to pick a major, Samia Razaq chose computer science.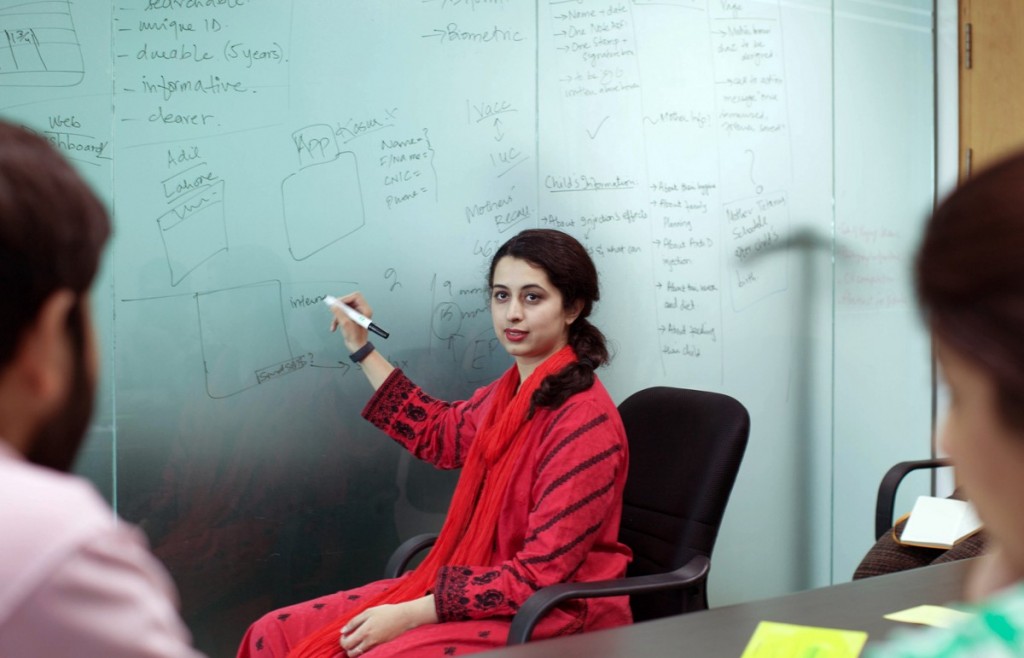 "I don't remember being that great at computers when I was young," Samia Razaq, said. "But my teachers always told me what I could do wasn't possible at my age. Then, as I got older, I'd get the highest score in the class and I even recall correcting my teacher one time. All of this reinforced my decision, even though computer science is seen as a last resort for women, and even men, in Pakistan. When I started my bachelor's degree, people thought computer science meant just learning Microsoft Word and Excel."
Samia Razaq landed at the Lahore University of Management Sciences for her Bachelor's and stayed on for her Master's. It was here where she was introduced to a research lab using technology to create solutions to social problems. At first, she didn't buy into the idea. But as part of her dissertation, she and her classmates were required to address a problem facing Pakistan's poor. They came up with an idea to create a people-powered search engine for the country's illiterate population. "Google isn't all that helpful when you can't read or write," Samia Razaq said. "We tried to created a way to provide information to people through mobile technology based on the idea that nearly everyone today, rich or poor, has a cell phone." The project had some glitches, but it got Samia Razaq thinking.
"Our idea didn't take off as we hoped, but I realized it wasn't just some small project — 165,000 people took part," Samia Razaq said. "To get an understanding of how these people were using our service, we gave them an option to provide feedback. We wanted to hear the conversations and know who was interacting and what was being asked. That required the painful task of listening to and transcribing more than 6,000 calls, but people thanked us and told us what they liked about the service without even knowing there was a person at the end of the line. All of this really put things into perspective for me."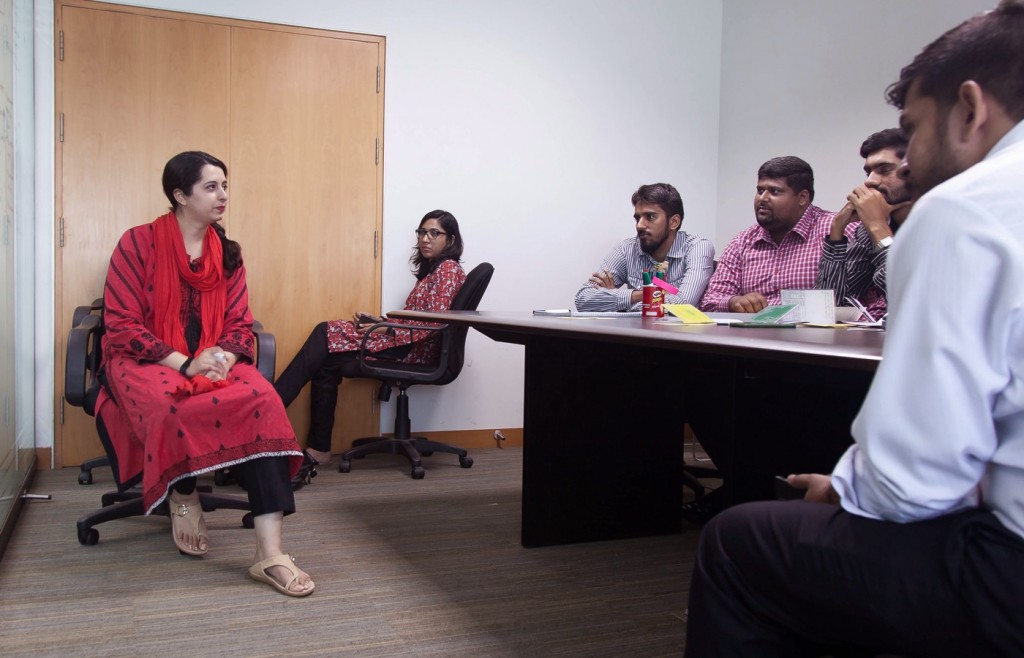 Her skepticism was gone, replaced with a belief that technology had the power to produce solutions to Pakistan's problems of poverty. Samia Razaq had found her path. Today, she is driving the field of Information and Communication Technologies for Development in her homeland. Not only is she the only female faculty member at IPAL, but she has also built her own lab to teach students how to think about and create technological solutions to Pakistan's social issues. Inspired by Amy Smith's D-Lab at MIT, Samia's lab pushes students to work directly with low-income communities and build their capacity to insure their solutions are sustainable. "I've never had the opportunity to meet Amy or go to MIT, but I believe in D-Lab and wanted to bring its ideas here to Pakistan," Samia Razaq said. She taught herself all of the MIT D-Lab courses and then worked on learning how Smith inspired her students.
"In Pakistan, you don't have to go far to find problems," Samia Razaq said. "You can just step outside of your house. Where I run in to trouble is convincing students to have empathy for someone else. Computer science jobs pay a lot of money, and many of these development projects fail, so it's really hard for me to persuade students not to go back to a developer's life. There are passionate students though and, once they see their solutions are helping people, they are committed. If you understand the value of our work, you don't need money to keep you going."
Today, Samia's D-Lab is committed to addressing some of Pakistan's biggest challenges. One of their top priorities is maternal health. Pakistan has the third highest maternal death rate in South Asia. Every 20 minutes, a woman dies due to pre- and postnatal complications that could otherwise be prevented. Samia Razaq and her team have developed an SMS and Interactive Voice Response (IVR) system to make expecting mothers aware of prenatal care, family planning and pre-maternal illness and are redesigning and digitizing immunization records to keep women informed before and after the child is born.
"Maternal and child health isn't an area many people focus on in Pakistan," Samia Razaq said. "Women rely on their mother or mothers-in-law for information. They don't share their problems because it's not something you talk about openly in our culture. The problems live and die with these women, and no one knows how to address them — or that they can even be addressed. We are trying to create a system to change the conversation.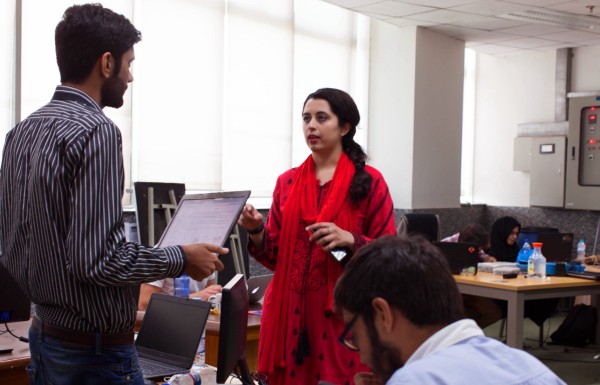 Samia Razaq is also revisiting the concept she explored with her dissertation and led to her career in tech for development. The people-powered search engine from her dissertation has now become Hello Rozgar, an IVR system designed to connect low-income, low-literacy Pakistanis with employment. Employers will call in and post jobs and, if you're a plumber or carpenter looking for work in Pakistan, you can call to hear job postings, apply for them and soon enough provide phone numbers for three references. The team recently received a grant from GIZ to support their work and expand the service.
A computer is a powerful tool, but Samia Razaq believes it's people who determine its force. With limited capacity, technology's value is minimal. "If you're coming up with problems sitting inside the lab, you're probably making them up," she said. "You need to listen and understand what's really going on. With tech for development, there has to be a human element."
As an Acumen Fellow, she has learned to dig deeper, question the status quo and push herself even more. "I remember how I felt leaving the first seminar," she said. "I thought if 20 Pakistanis could have such a healthy conversation and learn so much from each other in a matter of five days, imagine how great it would be to one day have a Pakistan where all of us could speak openly, listen and learn to get along."
Samia Razaq is a 2015 Pakistan Fellow.
The Acumen Regional Fellows program is a leadership development program that equips emerging social leaders in India, Pakistan and East Africa with the skills, knowledge and moral imagination to drive social change in their communities.