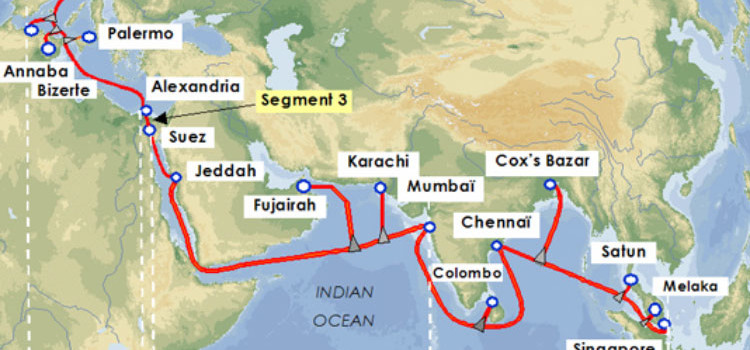 If you are facing slow internet speeds in Pakistan then you aren't alone. Almost whole of Pakistan — including 3G users — are impacted with slow internet speeds due to a fault that is developed in SEAMEWE4, one of the the major submarine cables that connect Pakistan with rest of the internet.
According to sources, the fault is of physical nature and occurred near Karachi in the sea. Officials said that location has been identified however rectification efforts are taking longer than what officials had expected earlier.
Sources at PTCL — which relies heavily on SEAMEWE4 — confirmed the issue and said that since the time taken for restoration of SEAMEWE4 is taking longer than they had earlier thought, bandwidth is now being shifted to other submarine cables to make sure that country's demands are met adequately.
Sources said that complete restoration of SEAMEWE4 could take a couple of weeks, and until then the bandwidth reliance on back-up submarine cables will be enhanced. During this, internet users may face degraded download/upload speeds.
Latency rates are going to remain high during this window, while pages may not load at all. Reloading of the pages is advised, while unnecessary high-rate data consumption is also not recommended.
Update 1:
25 June, 2015 – 7:30: IMEWE cable has also been damaged to add up more problems for ISPs in arranging backup bandwidth.

New IMEWE Outage: 110 Gbps
Ongoing SMW4 Outage: 178 Gbps
Total Unavailable Bandwidth: 288 Gbps
Pakistan has a total of 360 Gbps bandwidth, out of which only 72 Gbps is available right now.
ISPs are in the process of rerouting bandwidth but it will take time (a few hours at the very minimum). After this new development, it's going to be a few days before normal service is resumed.
Update 2:
26 June, 2015 – 01:15 AM: One of the impacted cable IMEWE, that had double cuts on two pairs near Egypt, has been restored to full capacity now. Restoration of IMEWE has added 110Gbps of internet bandwidth back online in Pakistan, while SMW4 (that contributes 178Gbps of bandwidth) is still offline and work is in progress.
PTCL, in a press statement, said that work on SMW4 is in progress, however, no ETR was shared with the press.
GM Media Communications of Pakistan Telecommunication Company Limited (PTCL), Imran Janjua, said, "Pakistan Telecommunication Company Limited (PTCL) by virtue of its investments in diversified International Submarine Cable systems, has already undertaken necessary measures to provide internet connectivity to its customers across Pakistan.  However, due to the fault in this undersea cable, the internet users may experience slow browsing during this period."
Our sources suggest that complete restoration of SMW4 may take few days, however, with IMEWE cable back online, internet speeds will get better in the country.