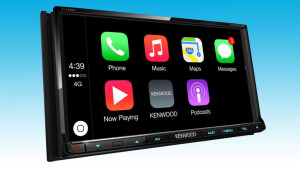 Another major car electronics maker has joined the race to expand Apple's CarPlay software beyond the limited built-in selections and into a larger aftermarket option: Kenwood.
The company joins Pioneer and Alpine, companies that began offering the CarPlay software option last year.
What makes Kenwood's new receivers different from the aforementioned competition is that the units allow you to switch between Apple's CarPlay and Android Auto without needing to change the unit's settings or reset the device. So if you're a multi-smartphone platform family, using iOS and Android devices, Kenwood looks like the best aftermarket option to serve all needs.
"Smartphone users have heard about Apple CarPlay and Android Auto in the media, and how as many as 40 models of 2016 and 2017 vehicles will come equipped with one or the other," said Tony Mercado, marketing manager for Kenwood's car electronics division, in a statement. "Today we are delivering both in a single chassis, well before most automakers."
The two Kenwood units, the DDX9702S ($900) and the DDX9902S ($950), both come with a 6.95-inch resistive touch panel display, giving you easy access to all the CarPlay and Android Auto goodies, including Apple Maps and Google Now cards.
Pricewise, Kenwood's new offerings are fairly competitive with the other aftermarket options: Alpine's CarPlay device, the iLX-007, is $800 and Pioneer's wide range of CarPlay-friendly models range from $700 to $1,400.
But Kenwood's ability to offer more seamless transitions between Android and CarPlay could, at least in the coming months, make it the overall winner.
ref:mashable.com