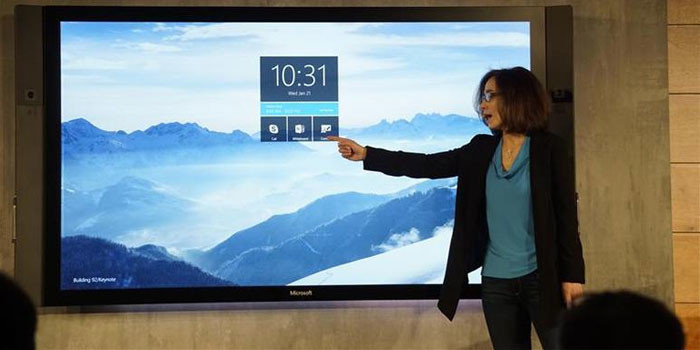 Microsoft has unveiled the Surface Hub, a gargantuan pen display which is available in 55″ and 84″ varieties.
The pricing of the 84″ display is set at an impressive $19,999. The smaller 55″ model we mentioned above costs $6,999. Normally we'd argue why that price is higher than it should be but not so in this case. That's because the features found in the Surface Hub are unheard of in other similar products.
Think of the Surface Hub as a Windows 10 running PC, which is exactly what it is. That means you'll be able to run any application on it. The entire Office Suite will come pre-installed and so will Skype. The display itself supports up to 100 simultaneous touch points, so multiple users can write and annotate at once. The display has a matte coating for lesser reflection and more natural scribbling.
Microsoft Surface Hub could be an ideal solution for studios or companies with a high focus on hands-on collaboration
Miracast is supported, so if your tablet/smartphone is compatible, the Surface Hub will wirelessly mirror your data.
The Surface Hub is powered by the 4th-generation Intel Core family and uses Intel HD Graphics 4600 and NVIDIA Quadro K2200 for the 55 and 84 inch models, respectively. Other features include speakers, Wi-Fi, Infrared, NFC, various sensors, 2 HD cameras and microphones. You also get an "I'm done" button which wipes the screen after you've finished your session. There are two pressure-sensitive pens which attach to the sides, and then get charged from there too.
No other interactive whiteboard quite gives you all that in one package like this. While it will in all likelihood not get mainstream, it is one of the most brilliant ideas we've seen all year.
ref:propakistani.pk