Network Attached Storage (NAS)
Network Attached Storage (NAS) devices are storage arrays or gateways that support file-based storage protocols such as NFS and CiFS, and are typically connected via an IP network. These file-based protocols provide clients shared access to storage resources. This centralization of shared storage resources reduces management complexity, minimizes stranded disk capacity, improves storage utilization rates and eliminates file server sprawl.
Benefits of NAS
NAS devices typically leverage existing IP networks for connectivity, enabling companies to reduce the price of entry for access to shared storage.
The RAID and clustering capabilities inherent to modern enterprise NAS devices offer greatly improved availability when compared with traditional direct attached storage.
Because Network Attached Storage devices control the file system, they offer increased flexibility when using advanced storage functionality such as snapshots.
With 10GE connectivity, Network Attached Storage devices can offer performance on par with many currently installed fibre channel SANs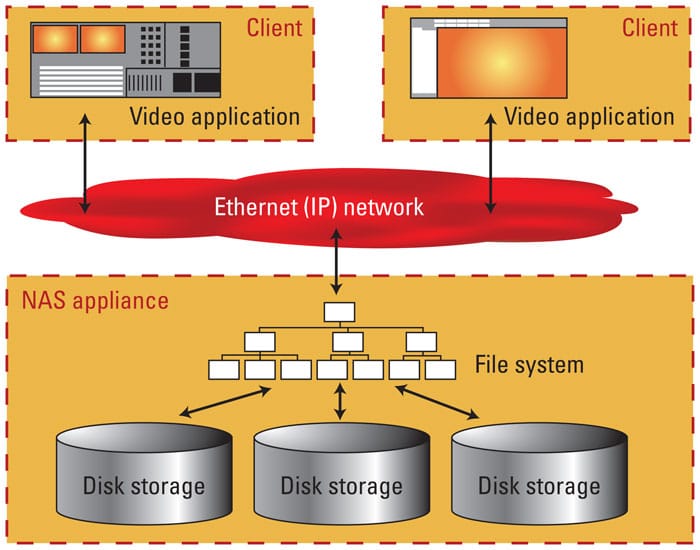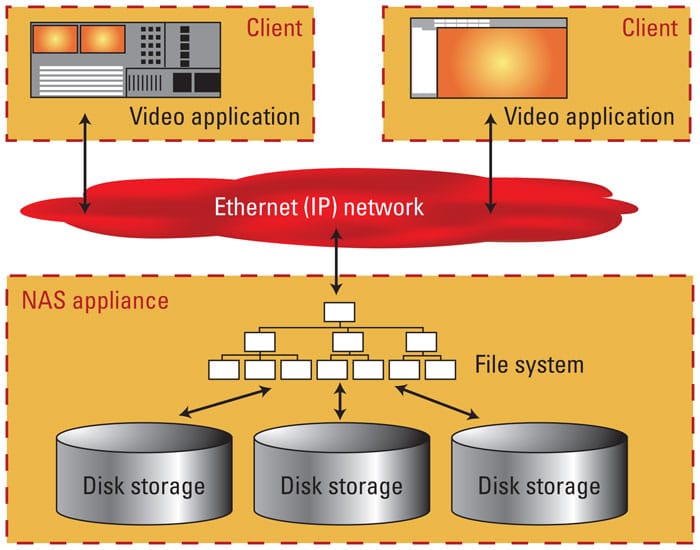 Key NAS Uses
Traditional use cases for Network Attached Storage devices include file shares, home directories and centralized logging. Recently, as the performance and availability of Network Attached Storage devices has improved, many customers are expanding the use of NAS to include storage for relational databases such as Oracle and MySQL, server virtualization environments such as VMWare VSphere, and virtual desktop solutions such as VMWare VDI.
Creating a Network Attached Storage Solution
NAS is a common storage infrastructure offering in data centers worldwide. RTShub has assisted many of our customers in justifying, designing, and implementing enterprise Network Attached Storage solutions – we can do the same for you! Along the way, we'll work with you to develop a solution that meets your needs, allowing you to:
Lower acquisition and management costs
Meet performance and availability requirements
Handle ever increasing annual storage growth with minimal to no impact to your business
Minimize, or even eliminate, the impact of backup windows
Deliver operational and disaster recovery
Growing a Network Attached Storage Network
If your NAS has existed for a year or more, you are more than likely struggling with the following questions:
Should I have a dedicated IP network for my Network Attached Storage solution?
What is the best data protection solution for my NAS environment?
Does it make sense to use Network Attached Storage storage with VMWare or HyperV?
Is my NAS environment a good candidate for de-duplication and compression of primary storage?
What options are available for archiving file system data?
What features are different among NAS vendors, and how will that impact me?
Should some of my data be on a Network Attached Storage device, or never aging iSCSI?
RTShub can help answer all your NAS growth questions, and deliver an architecture that meets your business needs.
Customized NAS Offerings
Given the breadth of use cases for NAS devices, RTShub can customize our NAS offerings to meet your needs. Here are some of the services delivered to our customer base:
Complete Storage Audit

– A thorough analysis of your current storage infrastructure, along with an architecture roadmap, and ROI for investing in a Network Attached Storage.

File System Assessment

— provides vital information about server volumes and files in heterogeneous storage networks without requiring installation of server agents. Using EMC standard tools we can identify capacity utilization, file age distribution, space consumption, last access time, last modification time, duplicate file types, and perform a file type classification. Once the analysis is complete, we present you with reports, findings, and recommendations in easy to understand format.
This analysis can take as little time as an hour without impact to your production environment with minimal input from your IT administrators.

Benefits:
Helps in determining the aging of files and how much content is not being accessed or modified.
Realize how much capacity can be reclaimed if this data were to be moved to an archiving tier.
Understand what type of data resides on the servers.
Single assessment that tells you all you need to know about the data residing on your file servers.