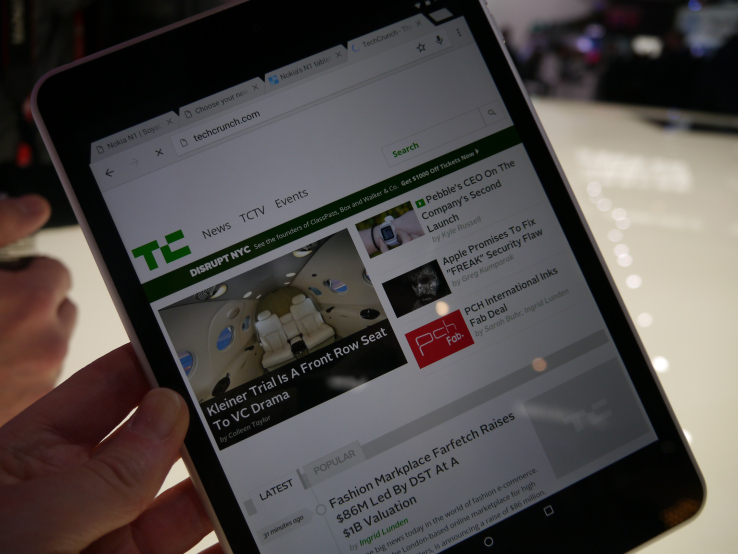 So much for terse denials. Former world number one mobile maker Nokia, which sold its device making unit to Microsoft last year, is indeed intending to get back into the mobile game next year — when a Microsoft contract clause that currently prevents it from putting its brand name on handsets lapses.
Nokia CEO Rajeev Suri told Germany's Manager Magazin the company intends to design and license handsets next year, and will "look for suitable partners" (via Reuters). "We would simply design them and then make the brand name available to license," he added.
This is not in the least surprising. Even as it looks to slough off its Here maps business, Nokia has been keeping its hand in the mobile business, designing and selling an Android tablet in China, and launching its own Android launcher last summer.
Meanwhile Microsoft looks to be retreating from smartphones — or rather phone buyers continue to retreat from its Windows-powered Lumias. Former Nokia CEO Stephen Elop, who had been heading up Microsoft's devices division — after being reabsorbed by Redmond last year, as part of the Nokia handset purchase — was this week shown the door.
How the tech pendulum swings.
It's worth reiterating that any Nokia-branded phones that will appear from 2016 will not actually be made by Nokia. It's a far smaller company than it was, prior to the Windows Phone years. But the Nokia brand still holds plenty of cachet in various markets — in both Europe and beyond — so Suri is clearly hoping to capitalize on that brand visibility to power a new Nokia mobile push.
Was he timing his confirmation of Nokia-branded mobiles in 2016 to coincide with Microsoft hanging up on Elop? We can but speculate…
Nokia has not confirmed what OS(es) might power any future Nokia-branded phones, but it's a pretty safe bet it's going to be Android. Nokia's N1 tablet (pictured at the top of this post) runs Android, and its Z Launcher is designed for Android, so Android is the platform it's been preoccupied with of late. Google's mobile OS is also where the mobile volume is, although the space has also never been more competitive. Just ask HTC.
Nokia-branded Android phones would be lining up to compete with megabrands like Samsung with huge marketing budgets and the resources to flood the market with handsets at every price point, and fast-paced upstarts like China's Xiaomi, which uses various manufacturing and business model strategies to squeeze the end-user price-tag — competing on affordability plus quality. Add to that, the challenge of differentiating on Android continues to cause headaches for OEMs. Hence HTC trying quirky.
Still, ultimately, given this will be a licensing business it's Nokia's partners — should it secure any (and presumably it has some lined up or Suri wouldn't be making any public pronouncements) — who will be the ones paying it to compete.
Foxconn is presumably a likely candidate, given the pair are already working together on the N1. I for one would wager that a Nokia-branded Android phone — of a similar minimalist, Apple-esque hardware calibre as Foxconn served up for the N1 — would sell like hotcakes in Europe. And  outsell sales of Windows-powered Lumias without breaking a sweat.
ref:techcrunch.com