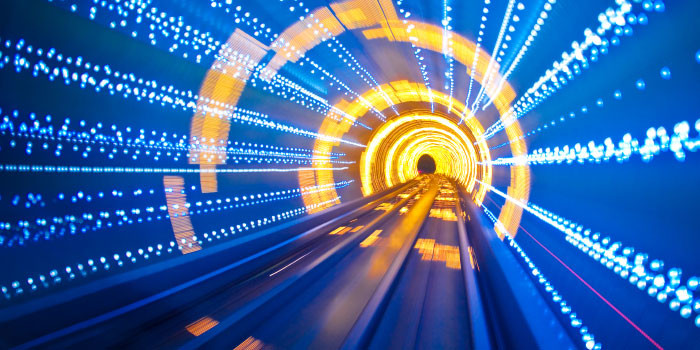 Mobilink has awarded a contract to Huawei to upgrade its existing network to 100 Gigabytes per second (Gbps) Optical Transport Network (OTN), a first of its kind in Pakistan.
The 100Gbps OTN will be deployed across a long haul fiber network on a nationwide basis which shall facilitate Mobilink in fulfilling the ever growing data and speed requirements of subscribers and guarantee the introduction of differentiated services.
The decision by Mobilink to upgrade its nationwide optical network will ensure an improved experience for its subscribers through the availability of greater bandwidth, efficiency and reliability.
Here is why the 100G OTN is a very important development.
Improved network user experience in term of voice quality and coverage
Huge bandwidth for different corporate clients specially for the Banking, ICT industry, education public health and many more departments
Cost effective wholesale, internet peering and datacenter interconnectivity, this will provide fast internet accessibility for every one even in the rural one.
More flexibility for 'Triple Play' services like Video, Voice and Data, online education
It will put Pakistan in line with developed countries as this technology is mainly deployed in the Europe and rich countries of Middle East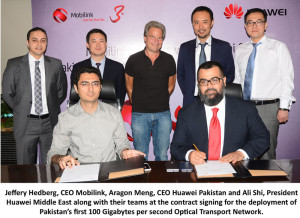 Jeffrey Hedberg, President & CEO Mobilink said:
Customer satisfaction is Mobilink's first priority on all fronts of our business. In view of the changing customer requirements and the exponential growth of data traffic on our network we have chosen Huawei to install Pakistan's most advanced optical network for Mobilink.

I am confident that the enhancement in our network infrastructure will provide greater end-to-end quality of service and a seamless end-user experience for the many years to come.
CEO of Huawei Pakistan, Aragon Meng said:
Once the 100 Gbps OTN is deployed, services like super-sized cloud storage and Ultra High Definition (UHD) videos will be available to Mobilink users across the country, while corporate clients will be able to access huge amounts of bandwidth to satisfy their growing enterprise data and analytics requirements.

This upgrade shall also ensure that Mobilink is well equipped to introduce 4G LTE services in the near future.
ref:propakistani.pk