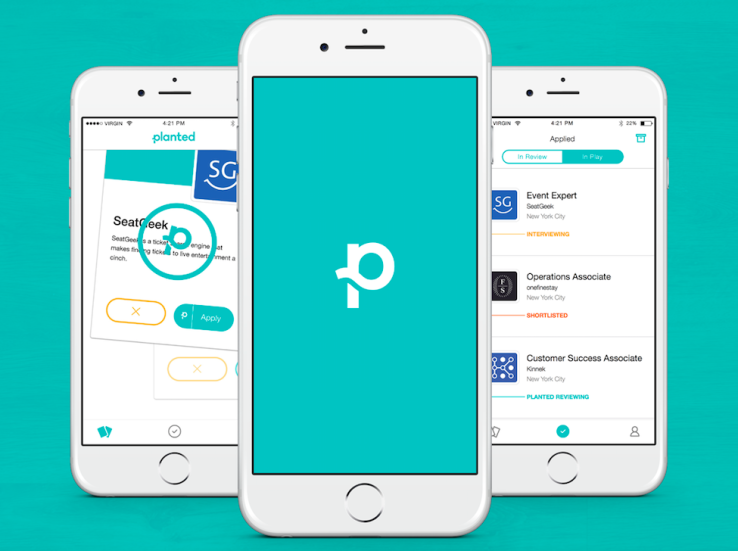 For those who just graduated college with a computer science degree, landing a job at a startup shouldn't be too difficult. For non-technical graduates, however, it's not so simple — nearly half of all recent college grads are underemployed.
Planted, formerly known as Lynxsy, is launching its iOS app today to help non-technical Millennials find jobs with startups. It pairs a data-driven algorithm with a layer of human curation to ensure that candidates are matched with the right job prospects.
"We monitor over 100 different data signals from both the employer and the candidate, ranging from background, to preferences, to which positions people opt into on the platform," says Connie Wong, co-founder of Planted.
According to a recent survey by Glassdoor, 45% of job seekers are using their smartphone on a daily basis to look for jobs. Planted reports over 50% of engagement on mobile, even prior to the launch of its mobile app.
"We see mobile as an opportunity to take the work out of finding work, and to transform the overwhelming black hole that is the job board experience," says Susan Zheng, Wong's co-founder.
By providing users with a personalized batch of three to five job prospects each day, Planted hopes to make the job hunt feel less overwhelming.
Wong and Zheng graduated from Techstars in June of last year, and they've since brought 12,000 job seekers and 400 companies (including SeatGeek, ClassPass, and Constant Contact) onto the Planted platform.
They're currently focused on New York, where nearly 60% of all startup jobs are non-technical roles. In less than a year after launching, Planted has helped over 200 candidates land jobs.
ref:techcrunch.com