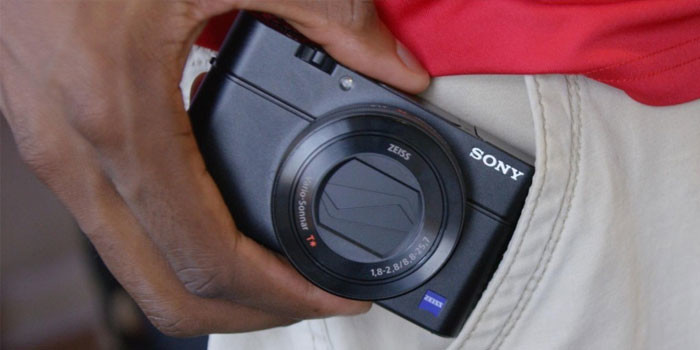 If money is of no concern to you, then not many would argue about Sony's RX100 being the the most accessible and no-frills compact camera around. It is not cheap for what it offers. Countless DSLRs can be brought for less than its asking price if you're a professional. But if you forget everything else, the RX100 is hands down the best camera for picking up and start shooting immediately.
And now here's a new version, the RX100 IV, the fourth camera of this amazing series. And before you start wondering, it costs $969. Again, far from cheap especially for a point-and-shoot, but unmatched in accessibility.
The Exmor RS sensor at the front is the same 1-inch 20 megapixel CMOS lens as last time. The 24-70 mm lens has f/1.8 aperture and a control ring around it. It comes with a new DRAM chip this time, which increases the readout speeds by five times and is by far the main attraction.
Shutter speeds go up to 1/32000 of a second now, with the mechanism quieter. There's also a new anti-distortion shutter which reduces the lag in fast-moving objects' video capture thanks to incredibly processing speeds.
For the video part, the RX100 IV can capture near-broadcast quality 4K videos of up to five minutes. You can shoot 17 megapixel snaps while recording 'em. It can also shoot 960 fps slo-mo videos at XGA (1280 x 800) resolution, 480 fps videos at 720p HD res. and 1080p videos at 240 fps.
Apart from that, the RX100 IV also has a better OLED viewfinder than its predecessor. Sony added the feature in the series last year, which seems like an achievement even today, only this time it has improved it to XGA resolution with 2.35 million dots. To make operations faster, Sony has merged the mode and auto-shooting modes in a single dial.
The camera is definitely a great deal for people who have to click their photos before the moment is gone. It will be available starting this June.