Toyota Sure Pakistan
What We Do
We buy, sell and exchange with certified used car or brand new Toyota
How We Do
The car we buy goes under 203 points quality check and the best cars are selected for certification.
Why We Do
To give used car buyers and sellers complete peace of mind and assurance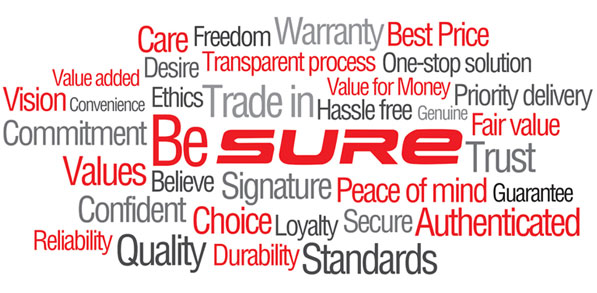 What Do You Get
Fair and transparent process with the best price for used car
Full Story
The better a product is made the longer it lasts and the more you enjoy it. Buying a used car from a private seller tends to be a frustrating, unclear and time consuming venture. To be thorough, you'll need to check your potential vehicle's ownership and service history along with ensuring you have a trained technician give it a fine-toothcomb checking for any potential flaws which will cost you in the future. Alternatively, you can simply select a Toyota Certified Used car and enjoy the complete peace of mind you so deserve.
Getting a high-quality Toyota at a great price is a very smart move. But getting a high-quality Certified Used Toyota at a great price is an even smarter move. The Toyota Certified Used Cars program is proof of our commitment to constant improvement and is setting the benchmark for peace of mind amongst those in the used car market. Not only does the Certified Used Car Program offer a range of benefits that no private seller could offer, it comes with the backing of the world's most trusted automotive brand, Toyota.
Indus Motor Company, the authorized distributor of Toyota and Daihatsu in Pakistan initiated Toyota SURE program with the main focus to provide used car buyers and sellers an experience at par with new car buyers. Toyota SURE is here to facilitate sales, purchase and even exchange of any used car with a brand new Toyota. Simply put, if you're looking to buy a brand new Toyota by exchanging it with any used car or just looking to buy a used car that you can completely trust, Toyota SURE is where you can experience this convenience.
Toyota SURE can facilitate you with easy, knock down deals for the exchange of your used car with a brand new Toyota. It's the one stop solution you can enjoy in simple steps:
Get free evaluation of your car by Toyota experts, where your car will be inspected in a fair and transparent manner to identify the quality level of the vehicle.
Get best price for your used car through our systematic pricing approach, the high price we pay for Toyota cars is the reward you deserve for owning a Toyota.
Simply pay the difference and drive out with a brand new Toyota.