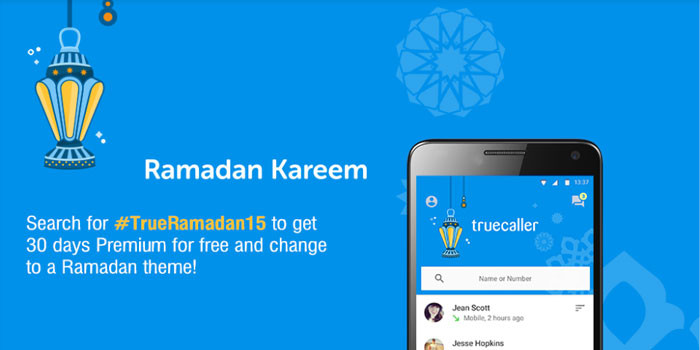 Trucaller has unveiled a special offers for all Pakistani users in the month of Ramadan. Enter #TrueRamadan15 into your Truecaller search bar to win 30 days of free Truecaller Premium.
Also enjoy a change in your Truecaller app to a special Ramadan theme! Make sure you have the latest update version 5.56 on your android phone.
Truecaller redesigned the theme of the application for the first time ever to celebrate the holy month of Ramadan.
In celebration of the holy month, the application will be decorated with Ramadan symbols that reflect the festive spirit of the holiday. Truecaller will help app users to enjoy a disturbance free Ramadan with its anti-spam and blocking features.
The blocking feature helps users block entire area codes, numbers with specific digits, hang up automatically on selected numbers, and even mute certain numbers (by activating silent mode automatically). Truecaller also has a list of 'common spammers' that is updated every day, and warns users to block certain numbers that have been reported by other Truecaller users.
For more information visit www.truecaller.com.