No setup required. Just throw Lily in the air to start a new video. It's that simple.
click to play video
https://www.facebook.com/video.php?v=10153001231113515
three simple steps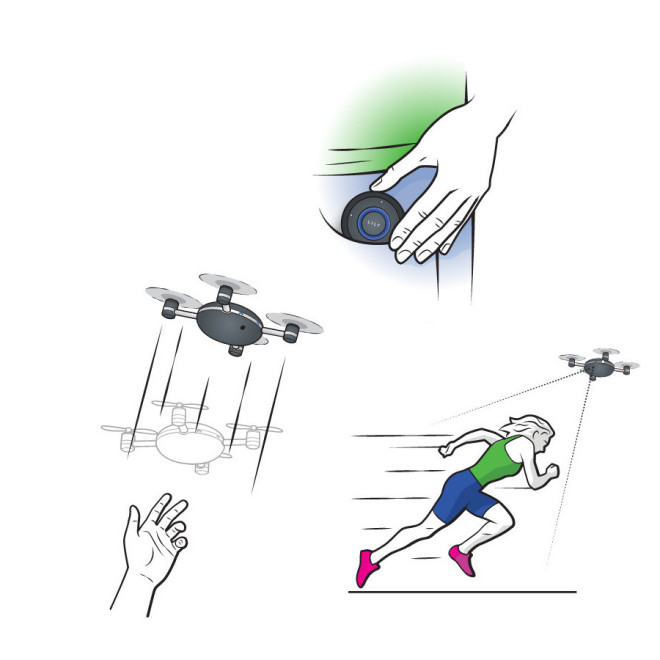 Aerial photography has really taken off with the advent of consumer drones, allowing virtually anyone to get a bird's-eye view of the action below. Of course, the quality of the shots you get will ultimately depend on the skill of the pilot and if you're wanting action shots of yourself, you'll need at least one other person to fly the drone.
A new drone called Lily aims to solve that dilemma. Think of it as your own personal drone equipped with a GoPro-style camera that flies itself and keeps you in focus at all times.
The device uses a small GPS tracker that the user can put in their pocket or strap to their wrist which allows the drone to keep track of its owner. Lily also uses computer vision technology so it can recognize its owner and assist in framing shots. The wearable tracking device also has a microphone to record audio, a feature not found on other drones as the sound of its blades would be all you hear.
The camera itself shoots video at 1080p 60 quality and can capture still images at 12 megapixels. It is enclosed in a polycarbonate hull designed to withstand the elements. In fact, the entire craft is IP67 waterproof although the tradeoff is that it doesn't have a removable battery. Once its 20 minutes or so of runtime is up, you're done until you recharge it.
Ref: Lily Salfie Drone